MONDE screening bucket can be attached to excavators, wheel loaders, backhoe-loaders or skid steers (ranging from 4 to above 40 tons). It is hydraulically driven, easy to use and versatile.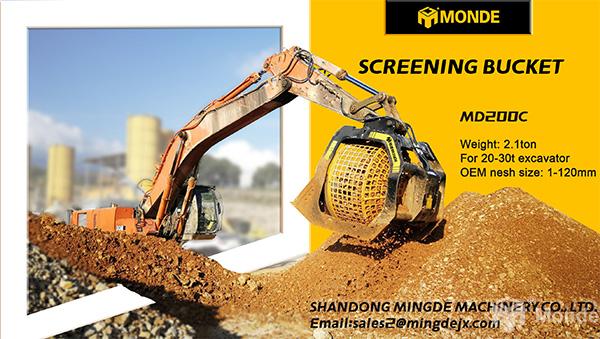 Typical screening applications include:

1. Screening Topsoil: preparing topsoil for projects such as landscaping, sports fields and large gardens.
Padding and Backfilling: screening excavated materials for reuse padding pipeline and cables.
2. Composting: mixing and aerating materials to create high nutritional soil
Industrial Applications: screening and separating raw materials, even when wet and lumpy
3. Recycling: separating fines from recyclable material, for example, screening construction waste before crushing relevant materials for reuse
4. Screening Peat: – stones, stumps and roots can be screening out to process light material

Often used in conjunction with a crushing bucket, screening buckets can help to reduce crushing times by up to 60%, allowing you to salvage materials suited to the type of job being carried out and to manage and reuse them in the best way possible.