3 points of excavator gp bucket reinforcement
As we all konw, under normal circumstances, the side knife, bottom plate, side plate, and tooth root of the excavator gp bucket are the places with relatively large wear. So, the degree of wear in these places is regularly observed, and if necessary, these places should be strengthened.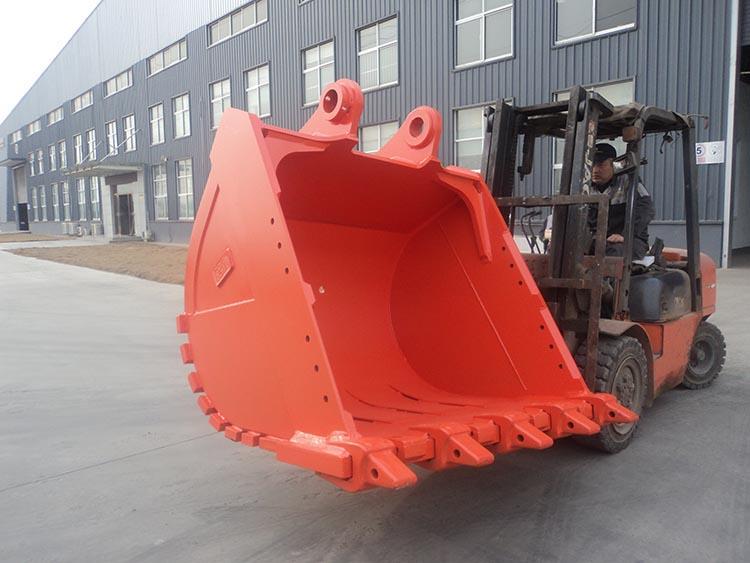 Strengthen the ruler root of excavator bucket

Tooth root strengthening: It is very necessary to strengthen the tooth root mounting plate. In the daily work of the excavator, due to poor strengthening, severe wear will occur at the tooth root, and the excavator gp bucket teeth will not be able to be installed for a long time. For the reinforcement here, two solutions can be adopted, one is to attach reinforcing ribs, and the other is to pack wear-resistant blocks. It should be noted that the method of attaching reinforcing ribs is simple and economical, but when welding, be careful not to overlap the welding seam of the tooth root, which will affect the welding strength of the tooth root.


Reinforced side board of excavator bucket

Side boards and side edges are strengthened: The violent wear of the side boards will reduce the effective bucket capacity of the excavator gp bucket and affect productivity. At the same time, the side knife also has the effect of cutting into the material and protecting the side board, so the bucket needs to be equipped with a side knife. Since the side is not a high wear area, the reinforcement of the side should not be too strong, so as not to affect the overall weight of the bucket.


Reinforced bottom plate of excavator bucket

Bottom plate reinforcement: The bottom plate is an area with more serious wear and it is also necessary to strengthen the bottom plate. The reinforcing ribs of the bottom plate should be made of hard and wear-resistant long plates as raw materials. The overall shape of the excavator gp buckett should be protected to avoid affecting the cutting angle. Affect production capacity. Many customers choose discarded chain plates as reinforcement materials. Personally think it is better. It should be noted that the welding of the ribs should follow the welding direction of the original machine ribs and overlap the two plates.

Welcome know more about MONDE excavator attachments. Our products including: buckets, ripper, boom & arm, grapple, quick coupler, hydraulic shear, hydraulic clamp, hydraulic vibration hammer, hydraulic crusher, milling machine, screener, strength boom & arm, tamping bucket, bulldozer shovel, bulldozer push beam, bulldozer ripper, loader bucket, loader timer grapple, show shovel etc.

1. SGS Verified Gold Plus Supplier
2. High Quality(100% inspection before delivery)
3. More than 1000 type models can be choose
4. 13 years OEM/ODM export experience
5. 24 Hours Quick Contact
6. Overseas After-Sales Service Outlets

Any questions, pls feel free to let me know.