According to the plan, "Tianfei-1" will be used in the Fu-Xia high-speed rail supporting project-Putian Railway Station Railway Pre-embedded Project. This is the first domestic case where multiple large-section rectangular jacking pipes simultaneously pass through an operating railway. Difficulty items. In view of the complex geological conditions at the site, including underground construction under pressure, all hydraulic seals must reach a pressure of 3Mpa. The academician of Mingde Research Institute and China Railway Engineering Equipment Group Co., Ltd. jointly concentrated their technical forces and worked tirelessly for one month. Communicate, make use of technical advantages and years of accumulated experience to produce a complete set of programs.Our pride! The world's first super-large cross-section hard rock composite stratum rectangular pipe jacking machine "Tianfei-1" rolled off the production line.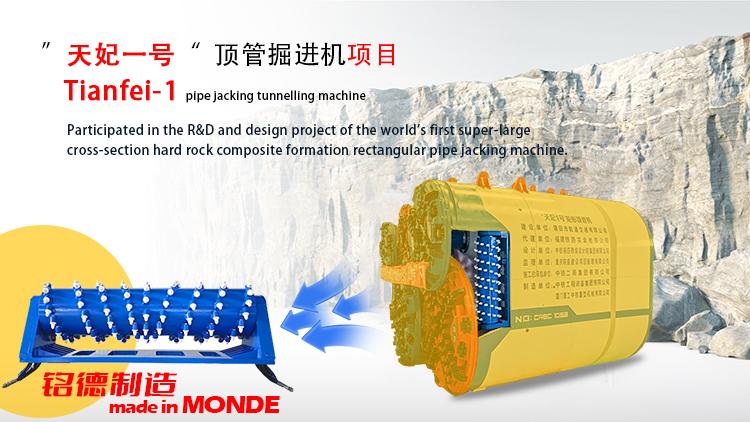 Shandong Mingde mainly participated in the R&D of the structural parts of the drum milling machine. After repeated sealing tests, the cutting drum is driven by the built-in dual-motor reducer to realize the milling function. The bearing adopts a single row four-point contact slewing ring. It can bear axial force, radial force and overturning moment at the same time. The blade adopts the latest scientific research brand to give full play to the high wear resistance and excellent cutting ability of the drum milling head.The design requirements and production level have far exceeded the previous requirements and standards of China Railway Equipment Research Institute. It has been put into production and used. The effect of using industrial and mining has been recognized and praised by the academician of China Railway Engineering Equipment Research Institute.
The world's first super-large cross-section rectangular pipe jacking machine "Tianfei-1" for hard rock composite strata was successfully launched at the site of the China Railway Second Bureau Putian Railway Station's railway pre-embedded project. This project is the first domestic case of multiple large-section rectangular pipe jacking The high-difficulty projects under the operating railway have also formally entered the stage of pipe jacking construction. Shandong Mingde Intelligent Equipment Technology Co., Ltd. has played a basic and key role in it.
Trust Made in China, Trust Mingde.